Free homeschool curriculum
There are outstanding free educational materials available to homeschoolers, including many aligned to common core standards. I've collected a list.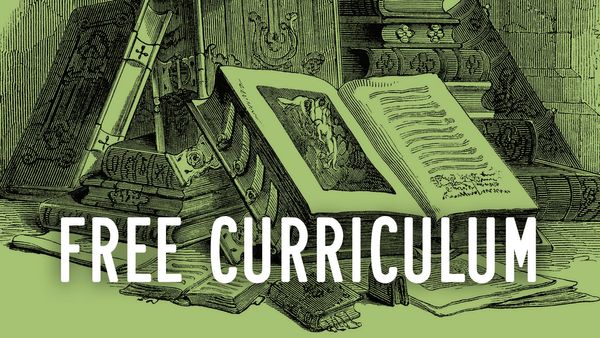 One of the first things folks wonder when they're considering homeschooling is where they're going to get their curriculum, and how much it's going to cost to purchase. Here's some excellent news: there are high-quality resources available out there for free. Many are in alignment with, and even completely cover, most state education standards.
Most of these have been created by education non-profits, or even by government education departments, with the goal of making a high-quality education accessible to all. Some of the free resources out there are fantastic, and I see some of them in heavy use by homeschooling pedagogy nerds I trust.
Right up to hitting publish on this post, I was remembering and adding more resources, so this is nowhere near exhaustive, and I'm likely to add more later.
High-quality free resources I'm likely to use in the future
These are resources I haven't used myself—yet. I've explored these fairly thoroughly, and either I haven't gotten around to using them yet or I'm saving them for when Wanda is a little bit older. These are all resources that I see in use by other homeschoolers I trust—people who are sticklers for high-quality resources and like their education methods to be science-backed.
Core Knowledge
The Core Knowledge Foundation was created in 1986, and its main focus is on advocating for knowledge-based education. I don't want to get off track here by diving too much into why integrating knowledge acquisition into the work of developing core skills is important, so I'll suggest you read this thoughtful review of Natalie Wexler's book The Knowledge Gap.
Core Knowledge has developed free curricula covering math, language arts, history & geography, science, and more; most of the curricula currently cover elementary and middle school grades. They have many books available for purchase, but my understanding is that the free curricula downloads include all the resources you need to teach each lesson, including printable PDF readers.
I see a lot of folks using Core Knowledge, and it has a reputation as a high-quality curriculum. One hesitation I have is that it seems to skew a bit traditional (read: Eurocentric) for my tastes. (In a Core Knowledge book for 2nd graders, a photo of Woody Guthrie has had the famous "THIS MACHINE KILLS FASCISTS" sticker on his guitar photoshopped out. Dunno how that would go over in your household; here in ours, we viewed that as a high crime.) That's an issue that isn't unique to CK, it's a challenge across all of education.
Fishtank Learning
Fishtank grew out of the Match schools in Boston, Massachusetts, and provides free curriculum for math, language arts, and social studies for grades K-12. The target audience is schools, but it's in heavy use by homeschooling families, too. What I particularly like about Fishtank is their active intention to be inclusive and anti-racist in their lesson creation. Like Core Knowledge, it has a big focus on building knowledge while developing skills.
The lessons can be accessed once you've created a free login to the site. The language arts and social studies lessons have a few required materials and some extra supporting materials—some are articles available online, but there are also books that need to be sourced (but can likely be easily found for free from the library or through a free eBook service).
Here's a good example of what Fishtank is like: the 3rd grade language arts/social studies unit "Rediscovering Thanksgiving: Fact vs. Fiction." This unit includes 25 lessons, each aligned with common core standards.
OER Project, and Big History
OER stands for "open educational resources," and this project is a large, non-profit effort to create a full open history curriculum. Two of them, actually: Big History, and World History, plus two extension courses on data and writing. My main interest is in their Big History curriculum. I've already purchased the (not required, but excellent) Big History book by DK that pairs with the program. They've partnered with Khan Academy and Crash Course (both mentioned below) to develop some of the program materials.
iCivics
iCivics uses interactive games and lessons to teach the basics of how government works in the United States.
Amaze.org and Scarleteen
Two excellent free sex-ed resources. Amaze.org in particular has content for all ages. We haven't turned to these yet because we've already been covering a ton of sex ed through books. Pretty soon, I'll introduce her to these sites, starting with Amaze.
Free resources I've used
The library
It's obvious, but it's always, ALWAYS worth taking a moment to appreciate the incredible resource that is our libraries.
Free through the library: Hoopla, Libby, and Kanopy
These digital services are available through our local library, the San Francisco Public Library. If you haven't already, I urge you to find out what services you have access to through your own library system. Libby is an excellent source of eBooks and audiobooks, Kanopy has a rather nice collection of streaming films (with an emphasis on classic, foreign language, and arthouse titles), and Hoopla has eBooks, audiobooks, and streaming shows and films.
Another common resource I've seen through library systems that I haven't yet tried: language learning software, such as Rosetta Stone and Mango Languages.
YouTube
YES, it's full of garbage, but it's also full of high-quality content, and telling the difference is a lesson in itself. PBS Digital Studios creates wonderful content through over a dozen YouTube channels. I've already shared my big love for their It's Okay to Be Smart science videos. The PBS Space Time channel has helped me be prepared to answer Wanda's big questions with a bit more confidence. WIRED's 5 Levels series is great fun. Crash Course and Crash Course Kids, and SciShow and SciShow Kids are reliable for solid content, too. Finding videos of science in action has been pretty easy: just this week, we watched kidney stem cells dividing, and watched a demonstration of Einstein's model of gravity. I've also told you how we boost our world learning with Geography Now! Pretty much any topic you're interested in, you can stick "for kids" on the end of your search terms and start sifting through the junk to find the gold. Most often, I spend some time exploring and pre-screening videos on my own. Sometimes I do it with Wanda, so I can model how to scrutinize information sources.
Prodigy Math
I have mixed feelings about Prodigy. For the few of you who aren't familiar, Prodigy is a browser-based, RPG-like adventure math game. Your character goes on quests and battles monsters by solving math problems, while earning all sorts of in-game doodads such as armor, potions, that sort of thing. We use it as a fun supplement for math practice.
Pros: it's closely aligned with math standards, and dynamically adapts to how your child is performing, providing some insight to where your child is at in math. It's a fun way to practice math skills.
Cons: it's free, but there's a paid membership tier, which I would be okay with, if they didn't focus all of their marketing efforts on manipulating kids via a have-and-have-not world. Wanda's been disgusted by their marketing style from the get-go, so it's been instructional in that way. Also, there's no real math instruction, it's really only good for math practice. If kids aren't enthralled with math, it's easy to spend a lot of time in the game doing non-math stuff.
Prodigy is currently developing a new language arts game that will use a similar model and should have a free tier.
Khan Academy
I'm underutilizing Khan Academy, frankly because there's so much available there that it's a bit overwhelming, so I forget about it. They have high-quality, expert-created resources for all ages, across math, language arts, science, history, and a lot more. Wanda's done some of the computer programming lessons on Khan Academy, and now can whip up a decent HTML/CSS/Javascript web page on her own. I really need to remember to turn to Khan Academy when we want to spend some extra time practicing a specific math concept. I expect us to start turning to Khan Academy more as Wanda gets older.
Museum educator resources
Most museums have a section of their website dedicated to free resources intended to be used by educators in the classroom, often in concert with a planned field trip to the museum. With the advent of Covid, many museums have even added virtual field trips to their websites. The resources tend to be colorful, engaging, and well-researched, and are often targeted at specific age ranges. If you're creating a lesson around a specific topic, see if there's a museum dedicated to that topic that has educator resources you can use.
I'll focus on one excellent example: The California Academy of Sciences, right here in San Francisco. We're spoiled to have this incredible institution right here in our backyard, but no matter where you are in the world, the CalAcademy wants to help you learn. Check out the deep resources they've made available on their website's Learn & Explore section, and then go even deeper with this section especially for educators.
Open University
I honestly don't know a ton about the Open University. It's a large, UK-based, non-profit educational institution, and it's been around for some time. I haven't looked closely at their offerings, as it's aimed at a university-level audience, but they created some videos I found useful when we were learning about keeping scientific lab notebooks.
Teachers Pay Teachers
This is an online marketplace where teachers can share resources they've created with other teachers. Most of the resources are sold for a small fee, but it's common for creators to share some simple, free resources as well. Honestly, it's quite rare to find something I find truly valuable on TPT, but at least with the free resources, your only loss is time.
Other stuff
These are resources I haven't spent much time looking at so I don't have anything to say about them, but take a gander yourself!
EngageNY
Free curriculum straight from the New York State Department of Education.
ST Math
It's not normally free, but it is free to homeschool families until June 2022, per their faq: https://www.stmath.com/faq
Science Mom
This is a new resource, and a lot of folks are really excited about it, but I haven't looked closely at it yet. Lots of free science videos, mostly science but also math. There are even some semester-long video-based courses. I think they're finding a way to keep creating resources while also paying the bills, so I'm not clear about how much is free, but my understanding is that there's some outstanding free content there.