Videos for homeschooling history
Some of our best history learning has come from watching videos. Mostly funny ones. Here's a long list of recommended videos!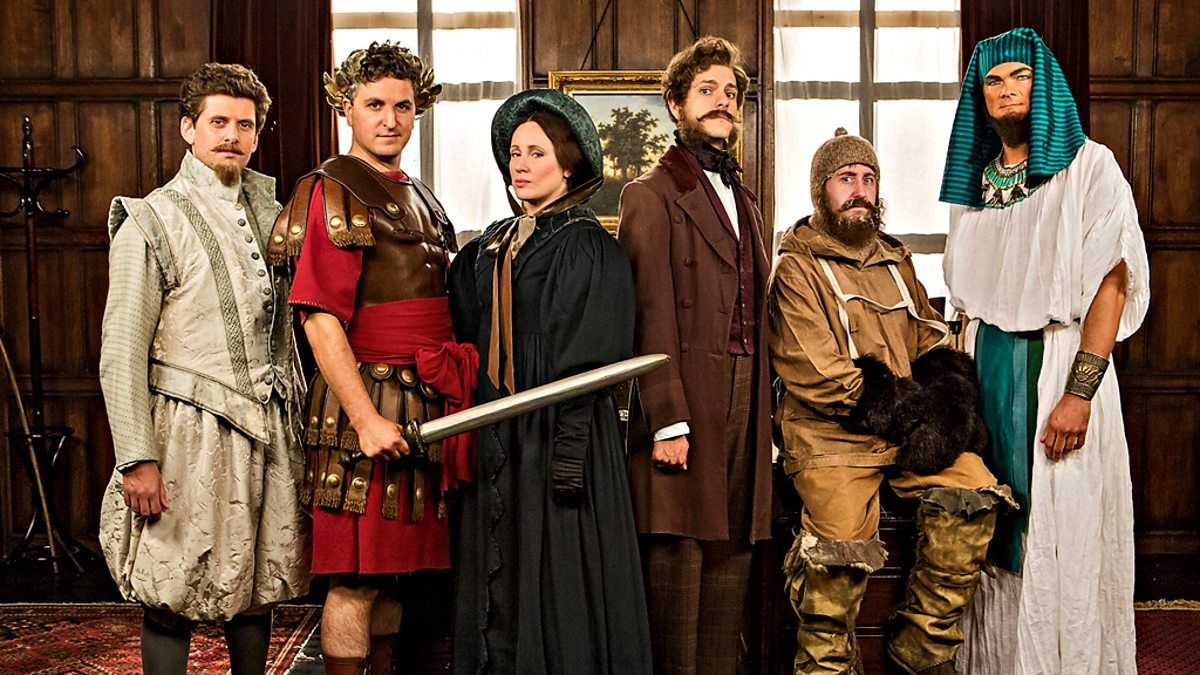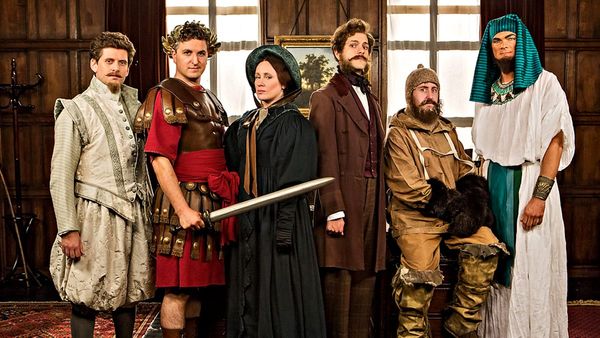 A typical way history is taught for elementary ages (when using a curriculum) is to start in the first grade at the very beginnings of humanity, and proceed in chronological order up to modern history over the course of four or five years. It's obviously a very logical progression.
All the same, I had a hard time getting on board with that plan. I was skeptical about how much meaning she could extract with so little context at the beginning, and without extracting meaning, I felt retention would be a challenge.
I always planned to have us learn history chronological order, but not right off the bat. First I wanted to give Wanda some toeholds throughout history, some hooks to hang understanding on, before we started marching through it methodically.
Our history learning up to this point has come through reading a lot of books, but also—and perhaps most effectively—from watching videos. History is storytelling, and video is an ideal medium for telling a clear and compelling story.
(Also—she's more likely to sit still long enough to eat some lunch if she's watching something.)
This year, in fourth grade, we are finally starting that methodical march through time, using a curriculum. It feels like a much better fit now that she's a bit older, and has some general understanding of history and context. She's much more interested now than she would have been when she was six, and I feel I can attribute a good amount of that interest to the history videos we've watched. (Because she's older, I'm adapting our chosen curriculum a bit—I'll talk about that in a future post.)
Here is a collection of video-based resources I've found useful over the last few years:
📜 = shows where the main focus is history
😻 = shows Wanda really likes and rewatches
🤓 = shows I think provided high quality history learning
History through irreverent humor
They say that the way to the heart is through the stomach, but that's not true for Wanda. The way to her heart is with irreverent humor. These are the shows that did the best job of keeping her engaged, and thus, she's more likely to turn to them again, and she's more likely to retain what she's learned.
📜😻🤓 history of the entire world, i guess
YouTube
I posted about this one just a couple weeks ago, but it's always, always worth posting again. Not really for kids; pre-watch to make sure it's a match for your family.
📜😻🤓 Horrible Histories
Hulu
This is a much-loved BBC series, which ran for several short seasons. Think SNL-meets-history. This show has a very Eurocentric lens, which is an unfortunate limitation. It has sometimes tried to break past that by delving into histories outside of Europe, but the results are pretty cringey—it's one thing to poke fun at your own history, it's quite another when what you're really doing is poking fun at a less-familiar culture. When those moments have come, we've paused to discuss that critically.
But when Horrible Histories good, it's great. This show, more than any other, has helped Wanda construct a general mental timeline of history, and chipped away at Wanda's thinking of history as boring.
📜😻🤓 OverSimplified
YouTube
This is Wanda's favorite history YouTube channel. As the name implies, it takes moments in history, big wars mainly, and takes a "look, here's the deal" approach to boiling the story down into simple terms. And it is very, very silly. I've learned a ton from these videos.
Wanda is about as into war as she is into sports, which is to say not at all. With so much focus on warfare in history, that can make it a slog, so humor helps a ton. She'll rewatch any of these, at any time.
📜🤓 Drunk History
Hulu
Definitely not meant for kids, so pre-watch to see if it's a fit for you. Comedians in various states of inebriation stumble through short re-tellings of history, which are then reenacted to great comedic effect. The stories tend to be more obscure ones, shining a light on corners of overlooked history.
Blackadder
Hulu
Really not meant for kids, pre-watch to see if it's a fit. This is a BBC sitcom from the late 1980s, and each season takes place in a different time in history. I love all of Blackadder, but season 4, which takes place during World War I, is particularly good. It was a great pairing with the Nathan Hale's Hazardous Tales WWI book Treaties, Trenches, Mud, and Blood.
Specific histories
📜🤓 Africa's Great Civilizations
We watched it on Hoopla, but it's no longer there. It can be purchased on a few platforms, and is absolutely worth the money.
If I were to recommend just one resource for everyone to view, it might be this one. Learning about African history is hard, which is frustrating because a) it's an entire fucking continent, b), it's where we all came from, and c), there's a direct connection between the difficulty in finding good history resources about Africa and the devastation of the continent by European colonialism and the slave trade.
This six-part PBS series by Henry Louis Gates, Jr. is a solid effort to improve on that situation. Six hours to cover thousands of years of—again—an entire fucking continent is nowhere near enough, but it's a good start. Watching this series helped me appreciate the richness and significance of African history. I want more, much more.
I have a future post specifically about teaching the history of Africa.
📜🤓 Secrets of the Saqqara Tomb
Netflix
This feature-length documentary about an archaeological dig in Egypt is quite good. In particular we appreciated that the dig is being led and executed by Egyptians and not by people from other countries, and the movie included many interviews with Egyptian scholars, including many women.
📜 The Greeks
Disney+
Not gonna lie, I don't remember this one so well. It's a three-part PBS series, but now it's available on Disney+ (maybe it was a co-production between PBS and National Geographic?). We watched it a couple years ago now. I'll probably have us re-watch it when we get to Greek history in our curriculum later this year.
Maya and the Three
Netflix
This one is a bit different from most of the videos on this list so far, as history is not its focus. It's a nine-part fantasy series by Jorge R. Gutierrez, available on Netflix. What makes is special, and worth including here, is that the series is based on pre-colonial Mesoamerican cultures, and was created by people of those cultures.
History through food
📜🤓 High on the Hog
Netflix
This four-part series, subtitled "How African American Cuisine Transformed America," is powerful. Inspired by the book of the same name by Jessica B. Harris, host Stephen Satterfield meets with experts in Black culinary history, tracing the significant impact Black people have had on American culture through food. His insights, curiosity, and moving vulnerability elevate this series well beyond your typical food show. Includes one of my favorite culinary historians, Michael W. Twitty.
Taste the Nation
Hulu
Each episode of this series, starting Padma Lakshmi, takes a look at how one culture has left its fingerprints on our culture through its food. The show is a bit hit-and-miss, and the second season is better than its first.
Cooked
Netflix
A four-part Netflix series by Michael Pollan, with each episode focusing on one aspect of how we cook, and a look at its history. Cooked is only six years old, yet it already feels a bit dated, but it's still worth a watch.
History through art
📜🤓 Civilisations
Hoopla, but worth purchasing if you don't have access
I greatly enjoyed this art history series from the BBC. It's a nice change to see history through the lens of art rather than war. It's filled with fresh perspectives on art, history, and humanity. At nine episodes, it was perhaps a bit overlong for Wanda, and may be better suited to older kids.
Otherwords
YouTube
I mentioned this series in my recent post about Shakespeare. It's a PBS-produced YouTube series about language. Many of the oddities of the English language are explained by history, so while history isn't the focus, it comes up a lot in this series.
Fate & Fabled
YouTube
This is another PBS-produced YouTube series. Learning about mythology often overlaps a bit with learning history, and ties in nicely with our Exploring the World through Story lessons.
History through war
📜🤓 The Long, Long Holiday
Amazon Prime Video, but worth the purchase if you can't find it
This is an excellent animated series, created in France, telling a fictional story of children in a small village in northern France through all of World War II. It's outstanding; it gave me a much deeper appreciation of the experience of the war. It's packaged as either 10 episodes, or five double episodes. Read my earlier post about this series to learn more.
📜 Liberty's Kids
Currently on Hoopla and YouTube, but we purchased it
This animated series was a massive production by PBS Kids, where it originally aired in 2002 and 2003. The fictional story has three kids working for Benjamin Franklin's newspaper, covering the stories of the American Revolutionary War from beginning to end, over the course of 40 episodes. It's stacked with celebrity cameos, including some weird ones (Sylvester Stallone as Paul Revere! Ben Stiller as Thomas Jefferson! Dustin Hoffman as Benedict Arnold!). Walter Cronkite is the voice of Benjamin Franklin, which is about perfect. We'll re-watch this one at some point, when we're doing a more thorough run through American history.
📜 Hamilton
Disney+
We only watched the first half, and honestly Wanda didn't like it, but it's a great supplement to any American Revolution learning.
History through science
🤓 Human Universe
We watched it on CuriosityStream, but it's no longer there. Currently available for purchase on some platforms. I'd buy it.
I went into this five-part BBC series wary, as I wasn't familiar with Brian Cox, and I was getting an unwelcome woo vibe at the start. By the end of the series, I was ALL ABOUT Brian Cox. There is no woo, instead there is exactly my brand of big-picture philosophical thinking about science and the universe, and I loved it.
🤓 Cosmos
Disney+
I don't have to tell you about Cosmos, do I? Honestly, Wanda doesn't love it, so we've paused on watching it, but she'll come around.
😻🤓 It's Okay to Be Smart
YouTube
PBS's YouTube channel It's Okay to Be Smart (recently rebranded as the simpler Be Smart) is a huge part of our science diet. We watch and re-watch the videos nearly every day. The primary focus is science, but history comes into the picture pretty often. Read more in my earlier post about Be Smart.
📜🤓 The Mystery of Matter
We watched it on Amazon Prime Video, but now it's only available for purchase. I'd buy it.
This three-part PBS series tells the story of how we came to understand the nature of matter, one scientific breakthrough at a time, covering the years 1754-1960. Learning about matter by stepping through how each scientific development occured over time was a revelation for me, and made me far more interested in the elements than I've been before.
📜 Shock and Awe, the Story of Electricity
CuriosityStream, Amazon Prime Video
This three-part series is a bit like The Mystery of Matter, only about electricity. It's good, but not quite as good.
😻 Disneyland TV show science specials
Disney+
In the late 1950s, as the world was transfixed by all things space, Disney produced some space and science specials for their Disneyland TV series. Wanda's favorite, by far, is "Mars and Beyond." The specials spend some time on the history of scientific developments, and do double duty as a look at the recent history of the space race.
History through architecture
📜 Secrets of the Castle
Amazon Prime Video
A team of three hosts (two archaeologists and a historian) participate in building a reproduction medieval castle in France, using only tools and materials that were available in the 13th century.
📜 The History of Home
CuriosityStream
This three-part series, hosted by Nick Offerman, is available on the documentary streaming service CuriosityStream, which I always forget we have. It looks at how our homes have evolved over time, room by room.
History through geography
Geography Now!
YouTube
I've written about the YouTube channel Geography Now! before. Each info-packed episode covers one country. History comes up, but is often covered superficially and at lightning-fast speed. It's a great pairing with other history learning, though.
Rogue Trip
Disney+
This National Geographic program, available on Disney+, follows former war correspondent Bob Woodruff and his son as they visit unlikely tourism destinations—regions that are usually in the news for reasons of strife. There is some coverage of the volatile history of these locations.  
Europe from Above
Disney+
Another National Geographic program on Disney+, this series uses drone footage of Europe. Each episode focuses on one country, presenting views of the terrain through all seasons of one year, while showcasing a few aspects of the country. History isn't the focus, but it comes up.
History on YouTube
We often choose to do a deeper dive into a particular bit of history, and for that we head to YouTube. Here are some of the channels that tend to be good resources:
OverSimplified (mentioned above, but worth mentioning twice!)
It's Okay to Be Smart (also mentioned above, but you'd be surprised how often history comes up on a science channel)
Extra Credits History
SciShow History
Great Big Story
Now This
TEDEd
Crash Course
Xiran Jay Zhao
Okay, now do Science!
Want a list of videos like this, only for science instead of history? You're in luck! My friend over at Catchy Name Homeschooling has shared a list of great science video resources.